We're on a mission to improve the reputation of the recruitment industry – by being a shining example of how we all should behave. We believe in doing things the right way, building relationships on understanding and respect – and working to a code of ethics that separates us from the sales-based agencies you might be used to.
We live by five core values
They sit at the heart of PK Education and ensure that we deliver on our promise every single day.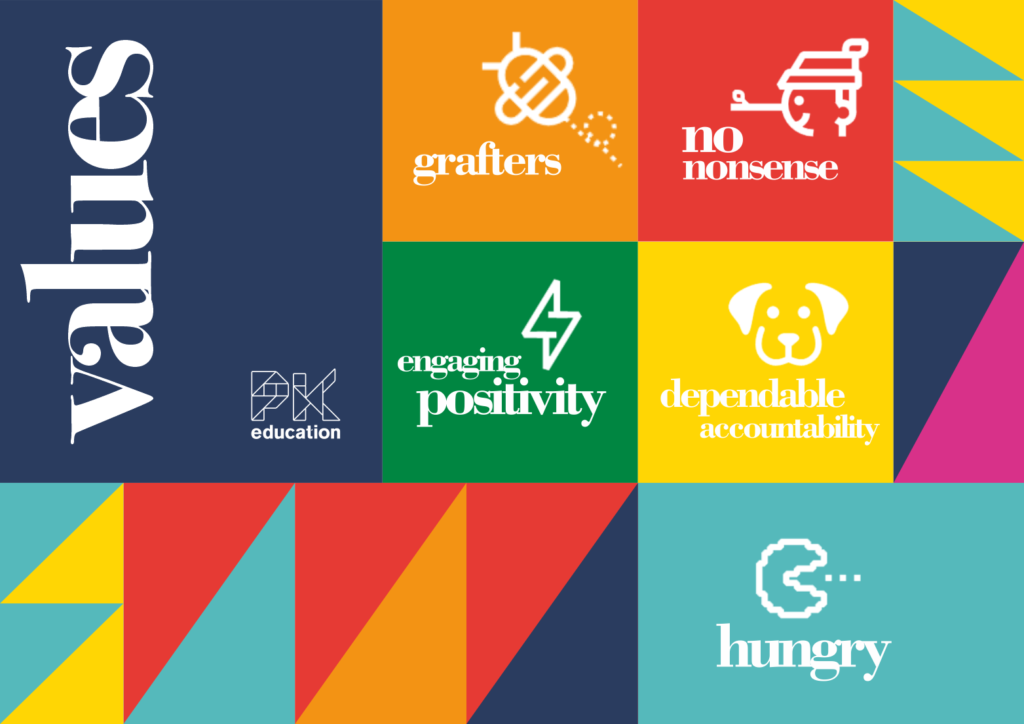 Our Values:
Grafters: Inspiring potential to get you where you want to be.
No Nonsense: Inspiring potential with no hidden surprises.
Dependable Accountability: Inspiring potential with uncompromising compliance.
Engaging Positivity: Inspiring potential with our awesome service.
Hungry: Inspiring potential on your terms.
True Partnership with Schools
We've no ambitions to be working with every school in the country – instead we've decided to choose quality over quantity, investing more time in getting to know individual schools, their processes, specific challenges and what they expect of a recruitment agency. For us, it's one of the most important parts of the whole process – and the only way we can make sure we put the right teachers into the right schools.
Find out more about how we help schools here.
Taking Care of Candidates
Our candidates are the ace up our sleeve – and we couldn't do any of this without them. This is why we take such good care of those who make it onto our books – and that in turn, is why we attract such a high calibre of teacher. Plus, the fact that we intelligently match candidates to schools means no one's ever out of their comfort zone but is always given the professional challenges they need to develop.
Find out more about how we help candidates here.
Safeguarding
The safety is, and always will be, a huge part of how we operate and the processes we have in place. But we don't simply follow what's legally required of us – we go much further to minimise risks and are proud to lead the way in safeguarding within educational recruitment.
Find out more about our approach to safeguarding here.
Want to Know more?
This page barely scratches the surface of the unique culture we've created here, and all the ways we help schools and teachers – so if you'd like to find out more and experience things first hand, please get in touch.