Name: Steven McArdle
PK Education office: Sheffield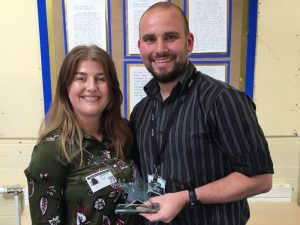 With two young children and a partner who is also a teacher, it is perhaps no surprise that Steven McArdle wanted a break from the profession.
He explained: "I'd been teaching in permanent roles since I left university 12 years previously, however the demands of teaching combined with having a young family left me feeling I needed a break."
Stephen took up a role as leisure centre manager, but found that weekend work clashed further with family life. He found himself at a career crossroads nine months after leaving the teaching profession, so he used supply teaching as a route to discover whether he wanted to return to a permanent teaching role.
Steven registered with PK's South Yorkshire office in Sheffield, where the team soon found him work.
He added: "Within days of registering I had a day's work in Acres Hill Community Primary School. This then became two days' work then a term teaching a Year 5 class full time. It was a great introduction to supply teaching."
Steven was subsequently offered a permanent, full-time role at the school in September 2018. He commented: "I used supply teaching as a route to see if I wanted to go back into teaching and as part of that journey I was introduced to Acres Hill. It is a great school. The staff are lovely and the pupils are cracking."
He proved such a hit with both PK and the school during his supply teaching experience, that Steven was nominated for and won the 2018 South Yorkshire Supply teacher of the Year award. He commented: "I was really happy to win the award. It rounded off an excellent experience as a supply teacher."