Name: Liam Stephenson
PK Education office: Newcastle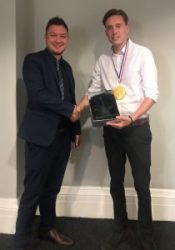 Liam Stephenson, from Walker in Newcastle, used supply teaching as a way to test the waters of teaching and help him make up his mind whether a PGCE was for him. And luckily, for the many schools that love him, it is!
Following the completion of his degree in Childhood Studies in 2017, Liam used supply teaching to help him decide which area of education to specialise in.
Taking on teaching assistant roles, Liam used the opportunity to gain as much experience as possible, including planning, preparing and delivering lessons in many of the schools he has worked in through PK.
Liam explained, "Starting in supply teaching offered me the option to experience a variety of schools, pupils and staff before working out where I'd like to be in a permanent role. The experience of supply teaching has definitely helped me on my way to that."
During his year with PK, he really grabbed the bull by both horns, never turning down any work or roles, including working in nurseries, KS1 and in teaching assistant and higher level teaching assistant roles. This meant he was able to build his experience to help him make an informed decision prior to embarking on his PGCE in 2018.
He added: "No two days are ever the same. I really do want to be the best version of myself and the best teacher I can be and I think that the experience of supply teaching has definitely helped me on my way to that."
And he advises anyone thinking of becoming a supply teacher to go for it. He added: "Anybody thinking about supply teaching should grab the bull by the horns and go for it. Nerves are totally normal, but they shouldn't hold you back. I almost let them and I would have regretted it so much."
Liam's hard work and commitment to education has not only been recognised by PK, but also the schools he works in who nominated him for the 2018 North East Supply Teacher of the Year title. He said: "I'm really chuffed to have won, I got into supply teaching to be the best version of myself and the best teacher I can be so it's amazing to have this recognised with the award."