Name: Tina Parmar
PK Education office: Birmingham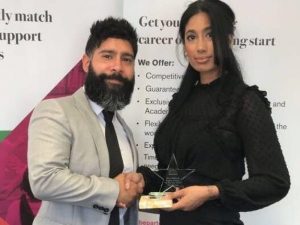 It was a love of youth work that prompted one of our candidates, Tina Parmar from Sutton Coldfield, to change career and take up teaching.
And it is her supply teaching journey, since then, that has helped Tina to fulfil her true calling – working in Further Education, combining her law degree and PGCE.
After graduating from Wolverhampton University, Tina worked with homeless youths and young offenders at St. Basil's, a West Midlands-based organisation which aims to prevent homelessness in young people but also to support those aged 16-25 that do find themselves in that situation. She created and delivered a programme through the organisation and it was when she was working here that she discovered her love of teaching.
She explained, "I found that I really enjoyed working with young people and teaching, so I looked into getting my PGCE in 2014. Since qualifying in 2015 I have been registered with PK Education and worked as a supply teacher continuously."
Tina chose not to take up a permanent teaching role. She explains: "The phone kept ringing and schools kept asking me back, so I never really had any reason to go for a permanent role."
The variety of supply teaching was one of the attractions for Tina. "Short-term assignments are helpful in getting to see a range of schools and roles, but long-term assignments are where I get to build more rapport with pupils and staff and get the satisfaction of seeing the fruits of my labour in the pupils' progress."
Tina had always wanted to move into Further Education and after three years in supply teaching she will be combining her teaching experience and law degree to deliver a foundation course in Law at Birmingham University later this year.
She explained, "Both PK Education and supply teaching have definitely helped me on my journey. The transition from Higher Education to Further Education is big but I'm so glad to be able to do it… It's always been my ambition and now I can do it."
Tina's hard work and commitment to teaching has not only been recognised by PK, but also the schools she works in who nominated her for the 2018 West Midlands Supply Teacher of the Year title. She said: "When I heard I'd won I was delighted. I think the awards are a great idea and really make supply teachers like myself feel appreciated."