Name: David Eaton
PK Education office: Leeds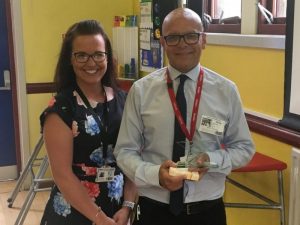 Supply teaching has proved the perfect solution for David Eaton, a retired headteacher who missed the buzz of the classroom but also wanted a work/life balance.
David originally retired from teaching three and a half years ago having held the position of headteacher at East Garforth Primary Academy.
When he was a headteacher, David tried to teach one afternoon a week and it was this element of his role that he missed when he retired.
Registered with PK's West Yorkshire office in Leeds, David now works three days a week combining his love of teaching with his passion for Manchester United, supporting the team at both home and in Europe.
He explained: "The great thing about supply roles is the minute you walk out of the school, it's your time and that's important to me."
"Supply teaching is great," added David, "I love the variety of work and the opportunity to build relationships that it brings. It has enabled me to achieve that all important work/life balance which I couldn't have when I was in a permanent role."
And schools love David. Hunslet Carr Primary School nominated him for the 2018 PK Education West Yorkshire Supply Teacher of the Year award, which he won. Martin Lumb, Headteacher Hunslet Carr Primary School, who nominated David for the award, said: "Over the past couple of years, David has built up a great relationship with the class teachers he covers for and the kids he teaches. He is the first one in school and often the last to leave. David always tries to follow the teacher's plans but is skilled enough to move away from them when the kids need something else."
David added: ": "It was a big surprise to be nominated and even more of a shock to win. Thank you to Hunslet Carr Primary School for nominating me."