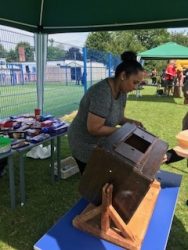 On what was one of the hottest days of the year so far two intrepid members of PK Education staff were on a mission to reward the pupils of Christ Church CE Primary School in Birmingham for another successful year.
At the annual School fete held this week West Midlands Business Manager, Kirsty O'Hara and her trusty sidekick Maneka Prasher manned the classic tombola and gave out the winning prizes.
The prizes mainly involved a well-deserved chocolate treat which was well received by the eager pupils- in fact many came back for more.
The Christ Church CE Primary School Fete is always a very popular community-led event and many raffle tickets were sold.
Strategic Business Manager Jane Large from the school thanked Kirsty and Maneka for their effort volunteering their services for an afternoon to help the school out- she actually called them 'stars'.
We are all looking forward to working with each other again in September after re-charging our batteries over the summer break- well done all.